- Deborah's New Puppy -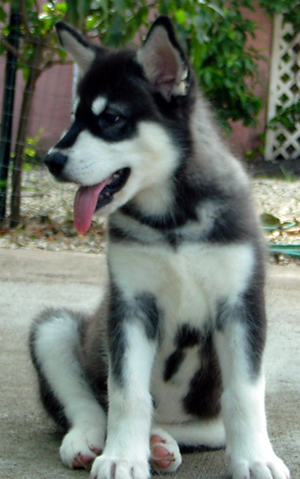 I always said that if I were going to buy an Alaskan Malamute, I wanted to buy from someone with the knowledge and the experience of an M'Loot Alaskan Malamute breeder. I do know from my research that Wakon's pedigrees go further back into the early 1960's. The majority of people who have a full Wakon pedigree on their dogs can call themselves very fortunate. Fortunate because as you should know these Wakon dogs have been researched and verified as being clear of all eye and hip defects and problems. These dogs are the best stock of Wakon's M' Loot. I decided for myself that I so wanted the best, so I contacted Mrs. Ross from Wakon kennels, resulting in the acquisition of this beautiful pup. She did inform me that she had other colors available, but my mind was set on this black and white boy puppy. I think he's quite the handsome boy!

Visit Deborah's Website to view more Photos of Commanche!